Skip to Content
How to Prepare for Your Child's First Dental Visit in Georgia
The American Academy of Pediatric Dentistry generally recommends that your child's first dental visit should occur within six months of their first tooth or no later than the age of one. While infants and toddlers may not require a full dental cleaning and exam, early dental visits are used to detect potential dental problems early, to begin discussing oral care at home, and to get a great start on a lifetime of great smiles. Your child's first dental visit should be an exciting time for you both, not one filled with dread or anxiety. Children's Dental Center has many years of experience preparing children (and their parents) for their first dental visit in Georgia.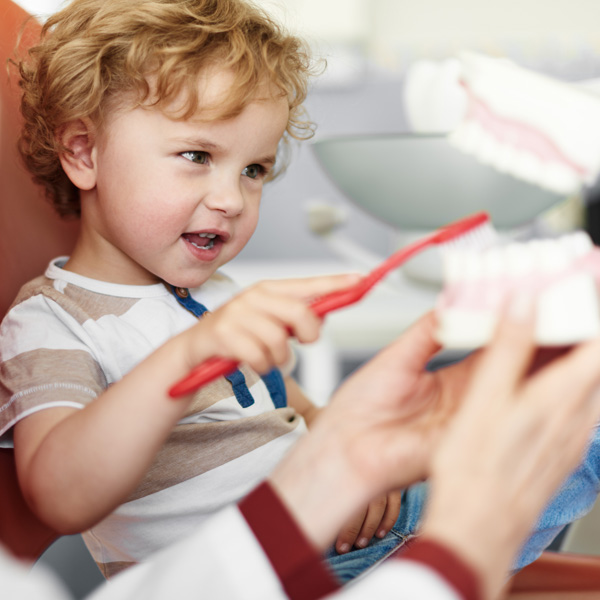 Why Are Early Dental Visits Important for Development?
Your child's primary teeth are essential for chewing, speaking, and smiling, not to mention preparing their mouth for their permanent teeth. Not taking adequate care of their primary teeth can have many adverse effects, including a child's inability to sleep well, eat properly, or even perform well in school. Early dental treatments help prevent tooth decay and other lifelong dental problems.
Tips & Tricks
Here are a few tips to help make your child's first dental experience at Children's Dental Center a great one:

The Right Time
Be sure to pick an appointment time when your child is well-rested. For patients five and under, we generally recommend early morning.

Be Positive
Most children pick up on feelings of frustration or anxiety. Try to maintain a positive tone about going to the dentist. Remember, children often learn best by example.

Reassurance
If your child is anxious about going to the dentist, do your best to reassure them. There are many children's books written on the subject that you could read together before their first dental visit.

Keep It Kid-Friendly
When describing what will happen, be sure to use fun, kid-friendly words. If it helps your child to bring their favorite toy or blanket, we encourage you to do so.
What to Expect During Your Child's First Dental Visit
During your child's first dental visit in our Georgia offices, you can expect to be greeted warmly by one of our friendly dental assistants to set the right tone for the visit. Your child will be able to play while you check them in and fill out any necessary patient forms. When it's time to take them back for their cleaning or exam, we'll explain every step of the process to your child as it happens. Our open bay clinical areas are designed with your child's comfort in mind. They'll be able to interact with other children receiving dental treatment to help put them at ease. After their cleaning and exam, you're encouraged to discuss your child's oral health with our team. Our dentists can answer any questions you may have about your child's care, and we'll take the time to discuss any follow-up treatments.
Schedule Your Child's Appointment in Georgia
Do you still have questions regarding your child's first dental visit in Georgia? Children's Dental Center would love to help prepare you and your child for your visit. Please contact us with any questions or concerns or to schedule your first appointment in our Acworth/Brookstone, Cartersville, or Rome dental office. Let's get your child off to a great start for a great smile for life!
Is It Time for Your Child's First Dental Visit?