Skip to Content
Comprehensive Children's Dentistry in Georgia
The American Academy of Pediatric Dentistry has suggested that your child's first dental visit should occur before the age of one. Children's Dental Center provides adolescent and children's dentistry services to patients in the Georgia area. We place an emphasis on preventative and restorative care, including children's orthodontics and IV sedation (sleep dentistry) for nervous patients.
Your child's primary teeth are vital for chewing, speaking, and smiling, not to mention holding the space for unerupted permanent teeth. Ensure your child's primary teeth are in good shape with regular exams and cleanings. Contact us to schedule their dental appointment in our Acworth/Brookstone, Cartersville, or Rome dental office!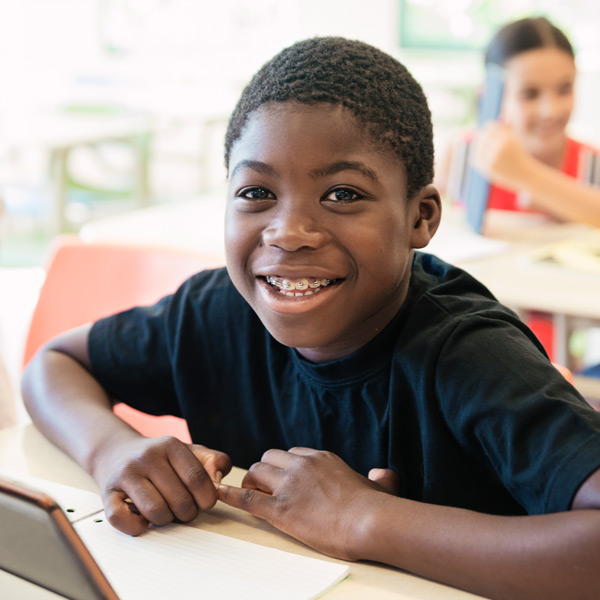 Carefully Improving Children's Smiles with Orthodontics
Could your child or teen use some help achieving a straighter smile? Our children's orthodontics care is second-to-none. From braces to space maintainers, we have many orthodontic options to help correct your child's alignment or spacing issues comfortably in our offices. Orthodontics is just part of the great dental care we offer to get them off to a great start for a lifetime of great smiles.
Preventative Dental Care to Preserve Beautiful Smiles
It's critical to instill good oral hygiene habits in your child, including daily brushing and flossing. We recommend supervising them until they're at least seven years old to ensure a thorough cleaning. You should also bring them to our office twice a year for effective preventative dental care. From regular exams to professional cleanings, our pediatric dentists offer many preventative dental care services for children of all ages. Be sure to ask us how your child could benefit from a fluoride treatment after their cleaning or a dental sealant to help prevent cavities and fillings.
Sleep Dentistry to Aid Your Nervous Child or Teen
Many dental procedures and patients require the use of sedation (or sleep) dentistry to help make the experience more comfortable and less stressful. Children's Dental Center has IV and oral sedation, as well as nitrous oxide (laughing gas), available in our offices. Maintaining your child's safety during a dental procedure is one of our top priorities. We would never recommend sleep dentistry unless it's in your child's best interest. Contact our offices to learn more.
Restorative Dental Care to Restore Your Child's Smile
Despite your best intentions, sometimes preventative dental care isn't enough to maintain healthy teeth and gums. When your child needs restorative dental care, our dentists are capable of providing crowns, fillings, and more. Even if your child hasn't developed their permanent teeth yet, restorative care is critical to helping them prepare for the eruption of their permanent teeth.
Is It Time for Your Child's First Dental Visit?